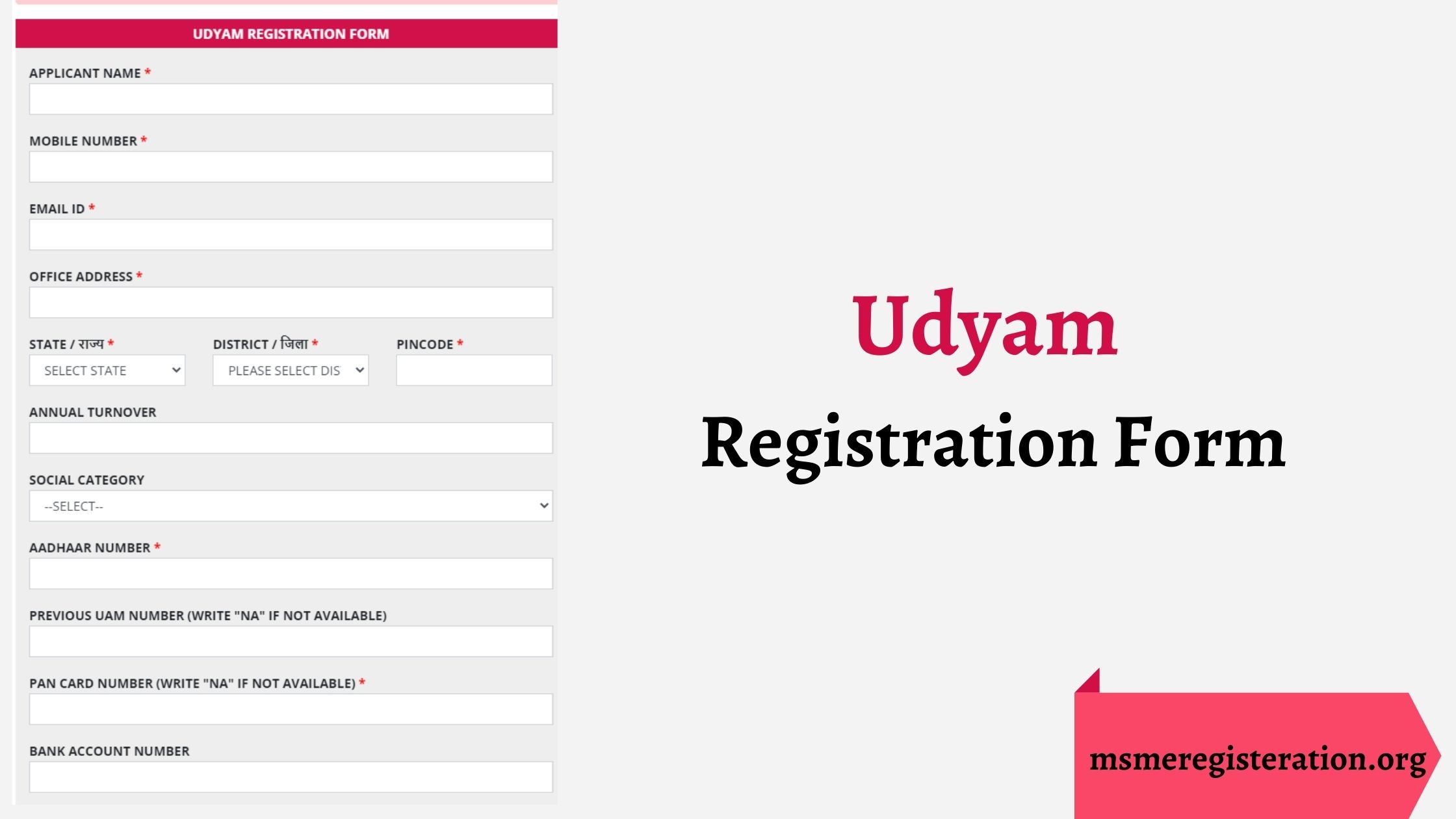 All About Udyam Registration Form
Udyam Registration is electronically registered on the Udyam Registration Site for every company intending to register as a micro, small or medium-sized business. The Udyam Registration Portal is a single-screen online self-declaration portal that does not include the upload of documents, papers, certificates, or proofs. And, in order to benefit from MSME benefits on or before March 31, 2021, all previously registered MSME enterprises or companies and enterprises with an EM II or UAM certificate must re-register/convert to Udyam.
What is Udyam Registration?
Udyam Registration is online registration for micro, small-medium enterprises (MSME) established by the Government of India. The name of MSME Udyog Aadhar Registration has been changed by the Indian Ministry of Micro, Small and Medium Enterprise to Udyam Registration.
Let us explain all the sections of Udyam registration form
Applicant Name (Required)
Anyone filing for an Udyam Certificate of Registration is an applicant. The name of the applicant may be the name of the owner or the promoter. The applicant's name should be the same as provided in the Aadhaar Card.
For a proprietorship business- The name of the individual company owner should be entered and his or her name should be identical to his or her Aadhaar card.


For a partnership company - It is possible to enter any given partner name and your name should be identical to your Aadhaar card.


For a Private Limited company (PVT) - It is possible to enter any given partner name and your name should be similar to your Aadhaar card.


For a public limited company (PLC)- It is possible to enter the name of any approved director and his or her name should be similar to his or her Aadhaar card.


For a Limited Liability Partnership company (LLP) - It is possible to enter the name of any approved director and his or her name should be identical to his or her Aadhaar card.


For Cooperative Society, Trust, Society: It is possible to include the name of any designated director or associate.

1. Important Note: The applicant's name should be similar to that of his or her Aadhaar card. And the phone number should be linked with the Aadhaar card.

2. An applicant could not change his/her name after registration with udyam.
Mobile Number (Required)
Having a mobile-linked Aadhaar card number is necessary. Upon acquiring the OTP, you will be needed to exchange the OTP for further processing with our representatives.
Email id (Required)
Since your registration certificate will only be sent to this email, you must fill in the correct email ID in the email address area. Make sure that the email ID and password are saved as you get the UDYAM certificate with the same registered ID.
Office Address (Required)
In this field, along with the state, district & Pincode, you will have to include the address where your office is located.
Annual Turnover
In the annual turnover sector, the specifics of revenue you have made over the year, commonly known as annual turnover, must be filled in. In the investment in the plant & machinery business, you have to enter the amount you invested in the plant and machinery under your company.
The turnover of an undertaking that does not have a PAN shall be filed for the duration up to 31 March 2020 on a self-declaration basis. GSTIN and PAN will be mandatory after that.
Information such as turnover and tariff turnover for a company may be linked to the Income Tax Act or the Central Goods and Services Act (CGST Act) and to the GSTIN.
Social Category
In this case, applicants will pick a social category, such as general tribal / scheduled tribe / scheduled caste / other castes backward (OBC).
Aadhaar Number
The applicant should enter his/her 12-digit Aadhaar number here.
This Aadhaar number must, in the case of a proprietary enterprise, be the managing partner, the designated partner, the authorized person, or the owner of the enterprise.
Any designated director or partner Aadhaar number may be used in the case of a corporation, LLP, PVT, or partner business.
Note: If an applicant or an approved signatory of an organization does not have an Aadhar card, he/she must first apply for Aadhar at Aadhaar's enrollment center. It is possible to start the Udyam registration process once the Aadhar is received.
Previous UAM Number (Write NA if not available)
Here if you have already enrolled under the MSME Ministry and have a UAM, then please list it here. You should mention it NA if you apply for the new udyam registration (NOT AVAILABLE) (NOT AVAILABLE).
Note: Anyone registered in the Udyam registrations portal with an EM-II or UAM, or any other registration issued under MSME Ministry by any authority, should re-register.
PAN Card Number (Write NA if not available)
In this particular field, the claimant will have to include their Permanent Account Number (PAN) and you can simply write NA if you do not have the PAN card number (Not Available).
Note: For any form of business registration, such as Pvt ltd company, public ltd company, LLP, etc., PAN card and GSTIN are mandatory.
On or after 31 March 2021, the Government of India made it mandatory for a company to have a PAN number.
Nobody can change the PAN number after the Udyam Registration, as per the government notification, they can only do so if they fail in any special cases.
Using a single Aadhaar number, any company can only opt for a single registration.
Business Name (Required)
In this case, the applicant is allowed to enter the name of the entity/company/enterprises in which it resides. Once registration is carried out with the brand name, it can not be removed/renamed/replaced with another company name. Only spelling errors on the udyam certificate may be edited/updated by the application. It is not possible to change the whole business name.
Note: No more than one UDYAM registration certificate for a single PAN can be taken by one business member (Permanent Account Number).
Date of Commencement of Business
The applicants must insert the date on which they began the business in the DD/MM/YYYY format in this section.
Types of Organisation (REQUIRED)
As it will be printed on the udyam certificate, the applicant must choose the form of association such as proprietorship, partnership, private business, one-person corporation, limited liability partnership, Hindu undivided family, community.
Note: No corporation files more than one Udyam Registration. However, it is possible to list or add any number of activities to a single registration, such as manufacturing or service, or both.
Main Activity of Business
In this section, pick one of the options for the key business operation offered.


Manufacturing Industries
Service Industries
Additional Details About Business
You have to include the additional detail herein certain terms from your business that you have given above. (for example, manufacture of food products, service of business consultants).
Number of Working Persons
The applicant must here show the total number of employees employed by the company. Attach the company's number of employees.
Upload your Aadhaar Card
You'll have to upload a soft copy of the front of the Aadhaar card in this field. Click the Select button, and then select the file that you want to upload.