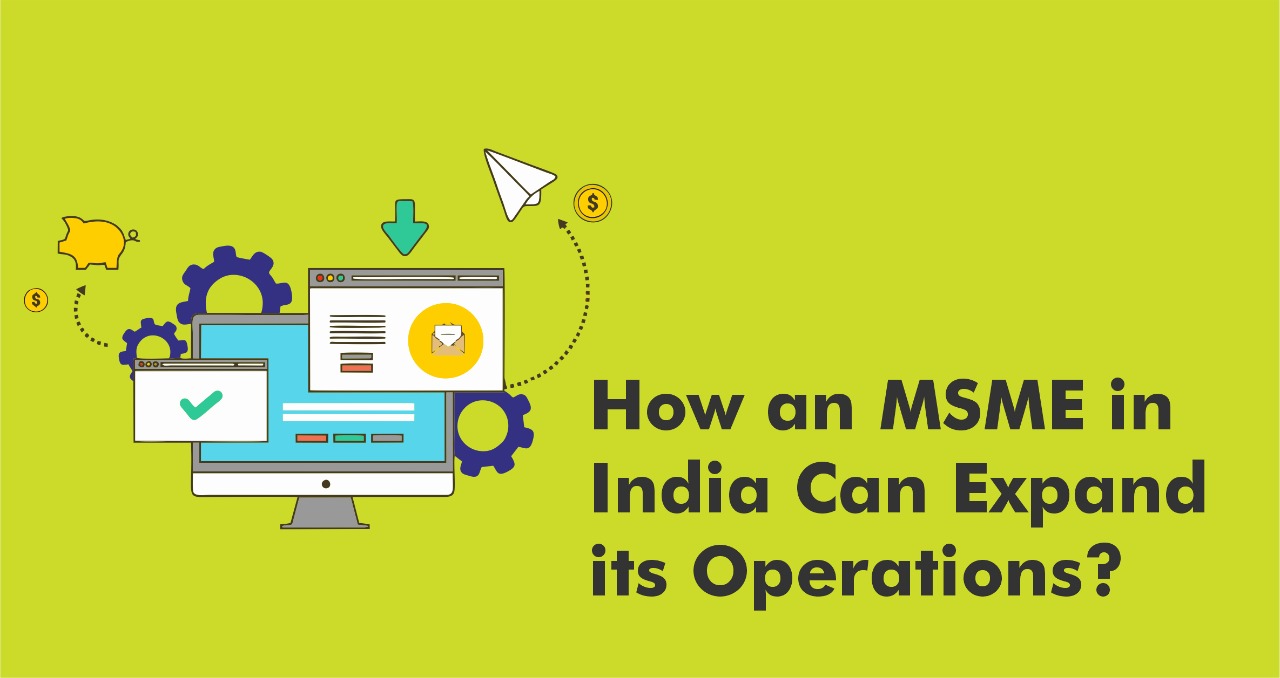 How an MSME in India Can Expand its Operations?
The MSME is searching for innovative approaches and methods to extend its activities in India. The MSME owners search for various ways of shifting their MSME's course in India. This blog addresses five activities MSMEs should adjust for this year's growth.
Defining MSMEs in India
The micro, small and medium-sized businesses are classified as MSME. MSME is the economy's backbone. Around 70% of Indian GDP is from the small and medium-sized companies market and the SME industry. This company requires less capital, thereby increasing huge jobs and decreasing poverty and the question of chronic unemployment. The income of this company is In order that MSME companies are funded by special opportunities and grants, our Indian Government has introduced a scheme named MSMED Act. By registering under MSME, an organization will reap several benefits.
How an MSME in India Can Expand its Operations?
A growing company owner looks for various prospects for growth while running a business and wants to enlarge his business. Company success contributes to higher revenues and earnings. Look at these few activities, which you should adopt to build a business this year as an MSME owner:
Allow an increase in the efficiency of non-linear production
The MSME sector historically relies on the manual operating style. Effective AI process and operational automation will theoretically raise production by 33.4 percent from current rates and contribute to total and export development. This will have a huge effect through a number of industries when applied appropriately
Set Goals
The setting of targets, in particular financial targets, is essential for the development of businesses. You ought to identify goals in a manner that can accurately determine whether or not they are met. The goals may be long-term or short-term (benefit ability, profits, etc.).

When, for instance, you are a supplier who wants an external extension to the nearest retail location. Then you need to learn how to grow your business without making any impact on your everyday job. You will ought to get a good idea of the extra benefits you expect for the same reason.
Delivering a higher degree of company resilience
MSMEs work widely under conventional consumer and operational environments in sectors such as agriculture. Using AI resources to react rapidly to consumer requests will enable businesses to fulfill their customer requirements. For example, using algorithms and AI to forecast the effect of the weather on product prices may allow industries to make educated decisions rapidly and react with predictive models. It will better satisfy the needs of consumers, which allows the business to expand directly.
Debts
At the beginning of the year, remaining debts which may have accrued in the last year(s) are evaluated. You should begin by measuring the existing client loans and the amount of EMIs available to you. The loan with maximum loan ticket size is recommended to be paid off. Many people consider MSME loans as a loss, in fact. But it should also be taken into account that they function as a medium for MSME development and expansion in India. And you will suggest taking an MSME loan in 59 minutes, because you have a successful chance, but are hesitant, due to the shortage of financing. In India, you can visit our website to search for various forms of MSME credits.
Empower technological solutions for a lower overall cost of running
MSMEs face significant challenges to prioritize investments in their early stages of development, as the sector focuses mainly on production. Areas such as customer care are also impacted. Will such an enterprise have a way of providing more opportunities and services to achieve something for less? One successful choice is to use the resources and frameworks included in AI. The utilization of virtual assistants to offer information and context-based assistance and exploit NLP for continuity at a reduced price will be an illustration of this in Customer Care. There are several more examples of these facilitators which already support this sector.
Strengthening expertise
In the rural workforce, 20% of the workers employed in the MSME field in India represent rural workforce. They do many earthly jobs. The correct use of AI technologies will help simplify dangerous and repetitive operations and improve the efficiency and value-added tasks of 20 million workers. Specialized training centers operated by government and business organizations that could provide workers with expertise and alternative work utilizing AI. There are several benefits of this action, beginning with an improved benefit capacity.
Bookkeeping
The most recurring issue for most MSMEs in India is unorganized records collection. This will end in financial errors that can only be suddenly found. It is also necessary to keep the books orderly, because unorganized books may have a lasting negative effect. The financial results and operating efficiency of the business must be registered. And the way you manage data integrity is often working. And it's recommended that you employ a qualified accountant if you hold and handle the finances on your own. This allows you to produce improved accounting performance and can therefore work on certain activities.
New partners
As an MSME shareholder, in this year you are looking for growing collaborations to grow your business. For starters, you will work with drug manufacturers, suppliers and consumers while you are in the development of a drug. Therefore, the market is rising with new collaborations in the same sector.
Exceeding the customer base
The extension of the consumer base is perfect for every MSME in India. New customers It is through the business. However, understanding the right time to draw a new consumer base is crucial. Your goods and services may be customized in different forms. Promote goods even by advertising, advertisement, social networking, branding etc.

A well-prepared budget when contemplating all of the above should ensure that you step in the right direction. It also offers you a picture of what your rivals might achieve. So you will definitely drive your company to greater heights when you are ready with a well-prepared approach.
About us
We are helping new or existing businesses, startups , entrepreneurs in getting through all MSME registration jobs.